Skate lesson
Skateboarding originated from surfing in the 1950s. On days without waves, surfers wanted to get the surf feeling, so they screwed roller skate wheels under a wooden board and used it to surf the California boulevards.
The Moralesboulevard in Scheveningen is ideal for Longboarding, and we have our own skateramp for beginners. We do classes for groups and individually, where you learn to skateboard in a safe, controlled environment. Board and protection are included, so good sense and a pair of shoes are all you need!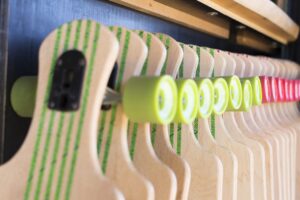 In the lessons we make a distinction between Longboard, Ramp and Street:
Longboard
This is the most accessible skate variant. Due to the long wheelbase, longboards are stable and stay stable. From simple steering to real cross-steps, you've come to the right place to get the hang of them.
Mini-Ramp
In our own mini-ramp you learn half-pipe skating in a safe environment. Drop your first time in, or your first rock and roll, we can teach it all to you.
Street
Do tricks on the street? Always wanted to learn a "Ollie"? If you can already roll a bit, we will help you with these tricks.
SkateSkill lesson
In our weekly SkateSkill lesson we teach you the basic skills of skateboarding, so that you can then cruise on the boulevard yourself.
If you prefer to learn the "street" tricks on a skateboard or in the mini ramp, request a lesson from us.
Click here if you want to book a SkateSkill lesson or request a customized Skate lesson. For more information you can contact us here or call (06-49392095).