Standup Paddle Surfing
The latest surfing craze is stand-up paddle surfing!
Many people also want to go on the water when there are few waves, especially when the sun is shining!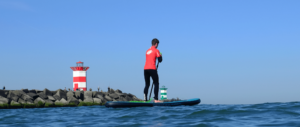 Standup – paddling is the ideal way to work on your fitness on the water!
In a balanced program, step-by-step work is done on your independent skills, which include issues such as safety actions, basic posture and paddle technique.
These lessons are given on soft inflatable boards with soft fins!
The sups can of course also be rented, prices are the same as surfboards
The price for a SUPlesson is 20 euros for an hour, private lesson 40 euros for an hour.
Click here to book, or call +31649392095