Private Lesson
The Private lesson is similar in content to the group lesson, but for a maximum of 3 people, so all attention to yourself!
Our experienced coaches bring you 1 on 1 quickly to the desired result, whether it is a beginner's lesson or a lesson on a more advanced level. The power is therefore in the high efficiency so that you learn to surf faster!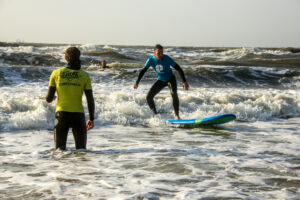 Do you want to learn to surf with someone else, but without other people in your group? The Private lesson can be up to 3 people (if you are with 4 people you simply pay the regular lesson price, without us adding other people to your group).
1 person: € 75
2 people: € 110
3 people: € 150
Private lessons include material and are given daily at times that suit you best. A lesson lasts two hours.
Do you want to book a private lesson? Click here to book!